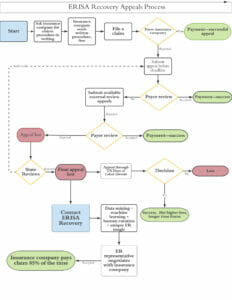 The diagram above shows the ERISA Recovery appeals process flow chart.  As the diagram illustrates, the process is complicated.  That's where our expertise can help.
What are the steps of the ERISA appeals process?
Plan description requirements
Ask insurance company for claims procedure in writing.  

ERISA requires insurance companies to provide free basic explanations of insurance policies.  These include a Summary Plan Description (SPD) as well as a Summary of Benefits and Coverage (SBC).  
The summary plan description tells participants what the plan provides, how it operates, when employees can join, and how to file a claim for benefits.
The summary of benefits and coverage describes the benefits and coverage in clear language.  Details include covered benefits, cost-sharing provisions, and coverage limitations.  
Filing a claim
The patient or their representative, such as a hospital, files a claim with the insurance company to cover treatment costs.  Insurance companies cannot charge you for filing a claim.
Your insurance plan must state whether the insurance company will or will not provide the benefits within 90 days. Your plan may include an extension for claim decisions in special circumstances if the insurance company tells you about the extension within the first 90 days. 
Insurance companies make claims decisions within specific time frames based on the type of claim filed.
Urgent care claims – 72 hours 

Pre-service claims (before treatment) – 15 days
 This is similar to preauthorization, when approval is needed before proceeding with a treatment or procedure 
Post-service claims (after treatment) – 30 days 

Disability claims – 45 days 
The number of days listed above includes weekends and holidays.
Extensions
Your insurance plan may have extensions in certain circumstances. 
In this case, the insurance company must inform you in writing 
(A) that it needs an extension,
(B) why it needs the extension, 
(C) what additional information it may need from you, and 
(D) when you can expect a decision. 
Extensions in special circumstances have a general 90-day maximum time limit.   But time frames may vary, based on type. 
For both pre-service and post-service claims decisions, the extension period is up to 15 days. Disability claims can have up to two separate 30-day extensions.
For urgent care claims, if additional information is needed, you must be notified within 24 hours, and have at least 48 hours to respond. 

For pre- and post-service claims, insurance companies must give you at least 45 days to supply additional information and inform you of their decision within 15 days of receiving that information. 
If the time in which the plan has to make their decision comes first, they must make their decision, or request an additional 30 days. 
Any further extensions require your approval. 
Rules governing claims decisions and rejections
If the insurance company rejects the claim, the hospital or patient must appeal the rejection to an internal administrative review within the insurance company by a specified deadline.

If the internal review procedure still rejects the claim, the next step is to appeal the denial to an external review appeal.

No decision

.  In case of a delayed decision from insurance companies, contact the local Employee Benefits Security Administration (EBSA) office.  This is the organization within the U.S. Department of Labor in charge of enforcing federal ERISA standards.

If your claim has been denied

, then your insurance company must send you a written or electronic notice. The notice must tell you: 
The specific reason for the claims denial;

The insurance plan's specific provisions on which they based the denial; 

What other information is required for the company to reconsider the original claim; 

How to submit the denied claim for an appeal review; and

How to file for an external appeal for non-grandfathered plans. 
Appeals
Appeal Procedure:

Your insurance plan must include a full and fair review procedure.
If your claim is denied, you have the right to appeal the decision. Your Summary Plan Description should explain how the appeal procedure works. 
At a minimum, the plan's appeal procedure must allow a patient or their representative, such as the hospital, to do the following: 
Request a review in writing;

Review relevant documents; and

Submit issues and comments in writing.
To file an appeal

, follow your insurance plan's appeal procedure. (You can ask for the appeal procedure in writing from the company.)  
Your insurance company may set a deadline for you to appeal its decision. If you fail to submit your written request for an appeal before the deadline, you lose your chance to appeal.
The deadline for filing an appeal must be at least 60 days from when you received notice of the claim denial. 
The letter of denial for the original claim should also state the deadline for filing an appeal.
You cannot be charged for filing an appeal. 
Appeals time frames
Appeals Decision

: Like claims decisions, appeals decisions have specific time frames based on the type of original claim. 
The insurance company must make an appeal decision, in general, no later than 60 days after it receives your appeal notice. Appeals decisions, like original claims decisions, have different timelines based on the type of claim.
The company may ask for an extension in special circumstances. If there is an extension, the company must make a decision no later than 120 days after receiving your request for review. If the plan needs an extension, the company must tell you in writing.
If the insurance company delays its decision

, ask the insurance company for the decision in writing and document the time line.  If the company does not send a decision in writing, contact your regional Employee Benefits Security Administration (EBSA) office
Rules governing insurance company decisions
12.  Written Decision: The insurance company must provide you with a written appeal decision in clear language.
The decision must include the specific reasons for the decision and the specific references to the plan's provisions on which the insurance company based its decision.  This should include a reference to a specific section of your policy for the reason the company denied your claim.
 If your appeal is denied, you can appeal a second time through your insurance company.   Or you can file an appeal through your ESBA office, depending upon your insurance plan's appeal process. Contact your regional EBSA office to file a complaint or an appeal after exhausting your insurance appeals process. 
Next Steps: If the plan denies your appeal, then you may contact the U.S. Department of Labor. You may also choose to seek legal assistance. 
A better alternative is contacting our company, ERISA Recovery
A quicker and less expensive alternative is to contact our company, ERISA Recovery.
ERISA Recovery uploads into our proprietary data mining system your insurance company's summary plan description, summary of benefits and coverage, as well as all correspondence and forms related to claims and claims denials.
Our high success rate
15.  Our analysts curate data mining and machine learning of claims rejections.  Then they negotiate with insurance companies to achieve an 85 percent success rate of recovery.