Bad Debt Is On The Rise at Non-Profit Hospitals
Bad debt is once again on the rise at non-profit hospitals. The experts at Moody's have gone over the statistics, and even though debt levels initially went down after Medicaid expansion and the adoption of the Affordable Care Act, things are moving in a poor direction once again. Although this debt can be tied to patient revenue, that is, the amounts of the bills that the patients are responsible for, it's important to note that staying on top of aged claims, those paid by consumer health insurance companies, is the best way to prevent debt levels from rising to insecure heights.
Bad Debt at Non-Profit Hospitals
According to the experts, "U.S. nonprofit hospitals' bad debt initially declined after Medicaid expansion but is once again on the rise, according to a report from Moody's Investors Service." They went on to explain that, "The report shows nonprofit hospitals' median bad debt as a percentage of net patient revenue was 5.6 percent in 2014 then dipped to 4.7 percent in 2015 and 4.3 percent in 2016. It then was flat in 2017 before rising to 4.6 percent in 2018."
In addition, "Moody's said the rise is due to changes in insurance benefit design that place greater financial responsibility on patients, increasing healthcare costs and confusing medical bills. These factors will continue to contribute to bad debt growth, often faster than net patient revenue, which is a credit negative for nonprofit hospitals, the credit rating agency said."
What happens now? "'Legislative proposals to simplify billing have the potential to reduce bad debt, but the proposed changes will be negative for hospitals because they introduce additional complexity to the billing processes and complicate relationships with contracted physician groups,' said Moody's analyst Safat Hannan. The Financial Accounting Oversight Board's update of the revenue recognition accounting standard 'will [also] reduce transparency around reporting bad debt.'"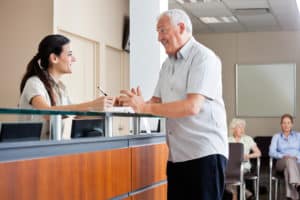 Don't Sit On Aged Claims
Even if the debt levels at your hospital aren't on the rise, you still need to focus on getting your aged claims paid. They might make up a small segment of your overall revenue, but sometimes that amount is necessary to keep you afloat should your finances make a sudden downturn. Since your billing department won't be able to handle filing Federal ERISA appeals on the claims that have gone through all three state-level appeals (they are too busy and may not know how), it's time to hire an expert. Call us. We specialize in getting those aged claims paid. Call us or send us a message through our system today to see how we can help.